K-12 Administrator's Manual
---
Since 1991 FCCPSA has worked to equip Christian private school administrators with the tools and resources they needed to professionally run their respective schools. Our hope is that this manual will serve as a resource of information to help you navigate through the obstacles of establishing and operating a private school. This manual is provided as a standard to ensure excellence and credibility to your school as it operates and grows as a Christian educational organization.
The FCCPSA 5.0 Administrators Manual is a required resource for K-12 schools seeking FCCPSA accreditation.
Section 1: Introduction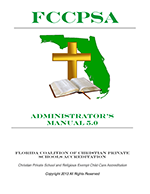 This is an overview of the FCCPSA and its mission, purpose, and services. This section outlines the legal options that parents in Florida have for the education of their children, and how oFCCPSA schools fit into those choices. It details many of the services that FCCPSA offers. Throughout this manual, when the term "private school" is used, it refers to non-public schools, which consist of traditional and non-traditional private schools. Traditional private school classes are taught in a "brick and mortar" school that meets five days a week. Non-traditional private school classes are taught in private homes and/or various locations.
Section 2: The Legal, Corporate and Business Aspects of Running a Private School
This section begins with the explanation of the different types of corporations in which to operate a school. Resources for federal, state and local laws, permits, and obligations are provided. Also included is an overview of legal requirements all schools must comply with: from the first moment the doors are opened, to maintaining all necessary records. Topics include: acquiring a school code number from the Dept. of Education, attendance, finger printing, non-public school survey, funding your school, etc. Resources are provided if you wish seek a tax exempt (501.(c)(3)) status.
Section 3: Administration
Each school is free to operate as they have been directed by the Lord, and therefore each school will run their day-to-day operations differently. This section is written largely in a question and answer format in an effort to get you, the administrator, to ask the right questions about your school's set up and operation. It is not the purpose of this manual or FCCPSA to dictate to you how your school should be run except where required by law or accreditation. Options, suggestions, samples, and standard procedures are offered here as you develop your policies and procedures for administration. Your administration will need to be organized, communicated and flexible to allow for excellence, balance, and growth.
Sections 4 & 5: Elementary and Middle School
Requirements pertaining to the successful operation of an elementary or middle school are outlined in these sections. Topics such as enrollment, course work, resources, and facility requirements are addressed.
Section 6: High School
From diploma options to graduation and post high school opportunities, this section of the manual covers a wide variety of topics pertaining to operating a high school. Coursework, frameworks, transcripts, grade verification, the five-year plan toward graduation, credits and enrollment are covered in detail.
A personal Story
In 1994, three families in Lakeland, Florida felt the Lord was leading them to start a private school to work with families and meet a need in their local community. The process consumed much prayer for wisdom and not a little knocking on doors, with generous amounts of calling complete strangers on the phone seeking advice, options, and concrete direction.
(For those younger than fifty, I must remind you that what we know as the"Internet" today was not open to the general public until 1995. The people (some would say geeks) who owned a "personal computer" were few and far between. I'm not sure how we survived without cell phones, laptops, or an iPad, but the Lord is gracious.)
The search led two of those families to drive to Orlando to meet with Rev. John Heaton (a board member of the FCCPSA), who had a used copy of something he called the "Administrator's Manual." It was almost six inches thick; some of the pages were loose or missing. The pages that were intact were, for the most part, copies of forms, statutes, and other documents that had been grouped by sections in a three-ring binder.
That manual did not look that impressive, but what it contained changed our lives forever. The step-by-step guidance on what was required to become incorporated, including sample Articles of Incorporation and By-Laws, obtaining a school code number from the Florida Department of Education, and a hundred other items and requirements that we did not even know to ask about gave us the confidence that, with the Lord's help, we could do this.
That manual was written twenty-five years ago, and, through it and the revised editions that have followed, hundreds of Christian private schools have been formed in Florida. New administrators have learned of the specific requirements that their job entails. Ultimately and most importantly, thousands of parents have had better choices for the education of their children. For me, the "Administrator's Manual" defines the FCCPSA. Our mission is to train and equip Christian private school administrators for the betterment of students.
The new manual builds on the work of those visionaries of the past. However, it is not the bulky "copies of copies" of old. The FCCPSA Administrator's Manual 5.0 has been rebuilt from the ground up. New sections have been created, new innovations in education are referenced, and hundreds of resources have been added. This is knowledge at your fingertips, with links to additional sites, and a resource CD that contains samples and forms you can use as needed for your ministry.
Our heartfelt thanks and appreciation to Liz Darnel and Kristen Ross who have spent many hours in this labor of love and have, once again, provided school administrators with not just a good manual, but with a must-have administrative tool.