FCCPSA provides both:
Certification for Religious Exemption Child Care and After School Facilities
Accreditation as a Florida Gold Seal Quality Care Program

Religious Exemption Certification
The FCCPSA is recognized by the State of Florida Department of Children and Families as a certification agent for child care facilities, including after school programs. Florida Statutes 402.301, 402.316 and 402.319
Faith Based Child Care Facilities in Florida are exempt from obtaining a license from the Department of Children and Families or the county designated agency, if they choose to and become certified through an approved agency.
The statutes provide the religious exemption for programs to be certified by an approved agency provided they are an integral part of a church or parochial school, meet the level two background screening requirements of DCF, local health requirements in addition to the on-site evaluation process of the agency to ensure compliance with its standards for health, safety and sanitation.
The complete section 402 of the Florida Statutes can be viewed here . .
If you have additional questions, please contact the office using the information listed below.
Gold Seal Quality Care Accreditation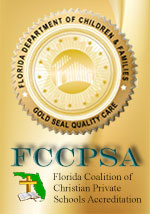 In 1996, the Florida Legislature established the Gold Seal Quality Care program to acknowledge child care facilities and family day care homes that are accredited by nationally recognized agencies and whose standards reflect quality in the level of care and supervision provided to children. In addition, the Legislature established provisions for Gold Seal providers participating in the subsidized child care program (a.k.a. school readiness and early learning) to receive a higher reimbursement per child than providers not receiving a Gold Seal designation.
Accreditation as a Gold Seal Quality Care program demonstrates a level of educational professionalism and committment to quality standards that surpass the broad benchmarks of health and safety. These programs go beyond the required standards that all Child Care Facilities must comply with as they continue to pursue excellence. The FCCPSA joins with the Child Care Program with an in depth Self-Study program based on established national standards, combined with a detailed inspection process that will guide the center to meeting the high standards necessary to become a Gold Seal Quality Care program.
For details and the qualifications required to begin the Gold Seal Quality Care accredition process, visit the Child Care Facilities Accreditation page here . .

For additional information, contact the Administrative office.
Administrative Office:
P.O. Box 5100
Deltona, FL 32728-5100
386-218-5310
joe.gibilisco@fccpsa.org
To download the Child Care Facilities Religious Exempt Certification Application Click here
To download the Gold Seal Quality Care Accreditation Application Click here